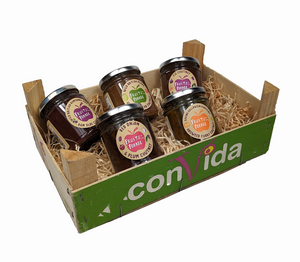 Chutney Hamper
Regular price £24.00 Sale
Make sure you have the perfect chutney for every cheese! 
Dam Sloe- Quintessential British hedgerow fruits; tart damsons and sloes with traditional pickling spices. Serve generously with strong cheese or rich meats. (blue cheese)
Heritage Pear-Spiced chutney with wild apples and tangy heritage cooking pears - a forgotten ancient British fruit. (Soft cheeses)
Hogweed Curry- Hogweed seeds are a wild spice perfectly suited to this sweet and spicy pumpkin curry chutney, a delicious and versatile condiment. BEST SELLER As good with cheese as it is with Curry!  
Plum and Red Onion- Plums gathered from traditional orchards in the Vale of Evesham are infused in organic cider vinegar before simmering with red onions to give a pleasing fruity tang to this classic preserve. Pair with charcuterie, cheese or add to gravy. 
Fig Chutney- Sweet sticky figs, perfectly balanced with tart Purple Pershore plums from traditional orchards in Worcestershire. A classic luxurious preserve to complete any cheese board.