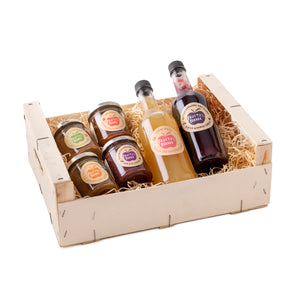 Christmas Party Gift Hamper
Regular price £33.75 £33.75 Sale
Includes:
Dam Sloe Chutney (200g) Perfect with strong blue cheese
Heritage Pear Chutney (200g) A great all-rounder, ideal with cheddar cheese
Hogweed Curry Chutney (200g) GREAT TASTE AWARD WINNING curry chutney
Hot Rhuby Chilli Preserve (200g) This sweet chilli preserve bursts with the flavours of rhubarb, smoky roast peppers, foraged wild garlic and cooking apples.
Elderflower, Rhubarb and Grapefruit Cordial (500ml) - Freshly picked elderflowers infused within 8 hours of picking, acidified with natural fruit juices instead of citric acid. This cordial is an awesome cocktail mixer try an Elderflower G&T or elderflower mojito. For a gorgeous mocktail simply serve with a slice of lemon, ice and sparkling water.

 

Winter Warmer Cordial (500ml) - Heritage British plums, damsons and apples with warming Christmas spices including wild hogweed seeds. Serve with hot water as a non-alcoholic mulled wine alternative or add a shot of whisky or brandy.